Instantaneous semiconducter switch "IGBT10A"
Instantaneous semiconducter switch for laboratory applications.
The "IGBT10A" can be used for continuous currents up to 10A.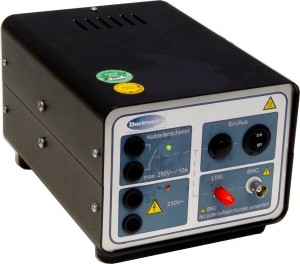 (Example)
Nominal values:

– switching voltage: 250V ac/dc
– continuous current: 10A ac/dc

Activation:
The "IGBT10A" can be triggered either by a potential free contact (BNC – socket) or fibre optic.
Furthermore a triggering with integrated switch an button is possible.

Activation with "RCD2010A":
With our RCD-test equipment "RCD2010A" it is possible to trigger the "IGBT200A" for various applications like characteristic tests up to 10A for Residual current circuit breakers according to
IEC 61008-1 or IEC61009-1.
Activation with "DoeControl"
The "IGBT200A" can also be triggered by the control- and automation unit "DoeControl". In this way "DoeControl" can be extended with a power output.
Features:
– Very low forwad voltage
---
Similar products:
IGBT200A
IGBT400A

That might also be interesting:
RCD2010A
DoeControl